At The Figueroa, downtown LA is just a stroll away. With only 252 guestrooms and ten meeting spaces, this boutique hotel is designed to make your life easier and better—from poolside yoga classes to complimentary cocktails and delicious food.
The Figueroa Hotel is a unique Los Angeles landmark located in the heart of Downtown's Golden Triangle, home of the famed Union Station and Museum of Contemporary Art. This is a boutique hotel with a hip vibe, great service and stylish rooms set in a 1913 Walnut Street building.
Located in the heart of Downtown Los Angeles, a short walk from the Staples Center, the Hotel Figueroa is an urban hotel that has it all: top-notch service, high-end amenities, and a convenient location. As an Unbound member, you can enjoy the benefits of the membership with special rates on the exclusive Unbound Collection of brands and amenities.
Hyatt Hotels Corporation has announced a new addition to The Unbound Collection by Hyatt: the 95-year-old Figueroa Hotel in downtown Los Angeles. The Unbound Collection by Hyatt brand now includes 27 unique hotels. The Figueroa is the first hotel in Los Angeles and the third in California, following the Mar Monte in Santa Barbara and the Carmel Valley Ranch in Carmel.
The Figueroa Hotel was opened in 1926 by the YWCA as an exclusive accommodation for women travelling alone. It was the first hotel of its kind to be financed and managed by and for women; the Figueroa Hotel was also the largest such project in the United States at the time. The first female general manager of hotels in the U.S. was pioneer Maude Bouldin, who for years made the Figueroa Hotel a meeting place for nearly every women's club in Los Angeles – a legacy continued today by the hotel's current general manager, Connie Wang.
What is new and noteworthy in Figueroa in 2023
2023 Selected artist: Shyama Golden
In keeping with the Figueroa Hotel's women-centric philosophy, the hotel has selected Los Angeles-based artist Shyama Golden as its lead artist for 2023. The hotel's collaborative artist program includes a changing art exhibit and special programs for guests and residents throughout the year. According to Hyatt, the collection is thought-provoking and deeply meaningful. She explores notions of femininity and how they are experienced, fulfilled, and enhanced through art and community. The art explores themes of growth, connection, healing and identity.
Artist Suite
The hotel recently opened its first ever Featured Artist Suite, transforming the Figueroa Suite into a lush environment with live plants, trellises and more to bring to life the artistic elements of nature and education, as well as a selection of new and original works by Shyama Golden that will create a mini museum for guests.
Best meals in hotels
Several new restaurant concepts from the Madera Group will launch in Figueroa in 2023, including the La Casita and Driftwood Pool & Sundeck concepts, the Figueroa Cafe open all day and the revamped Figueroa Bar, as well as the fine dining restaurant and bar concepts Ember & Ash, Atlas Obscura, Smoke & Mirrors and the upcoming Casablanca Club.
La Casita and Driftwood Pool & Sundeck will open this summer and offer gourmet poolside dining. Carla Lorenzo, beverage manager for Madera Group, will present a new cocktail program inspired by destinations such as Baja, Mexico, and Mediterranean coastal villages.
Wellness and outdoor activities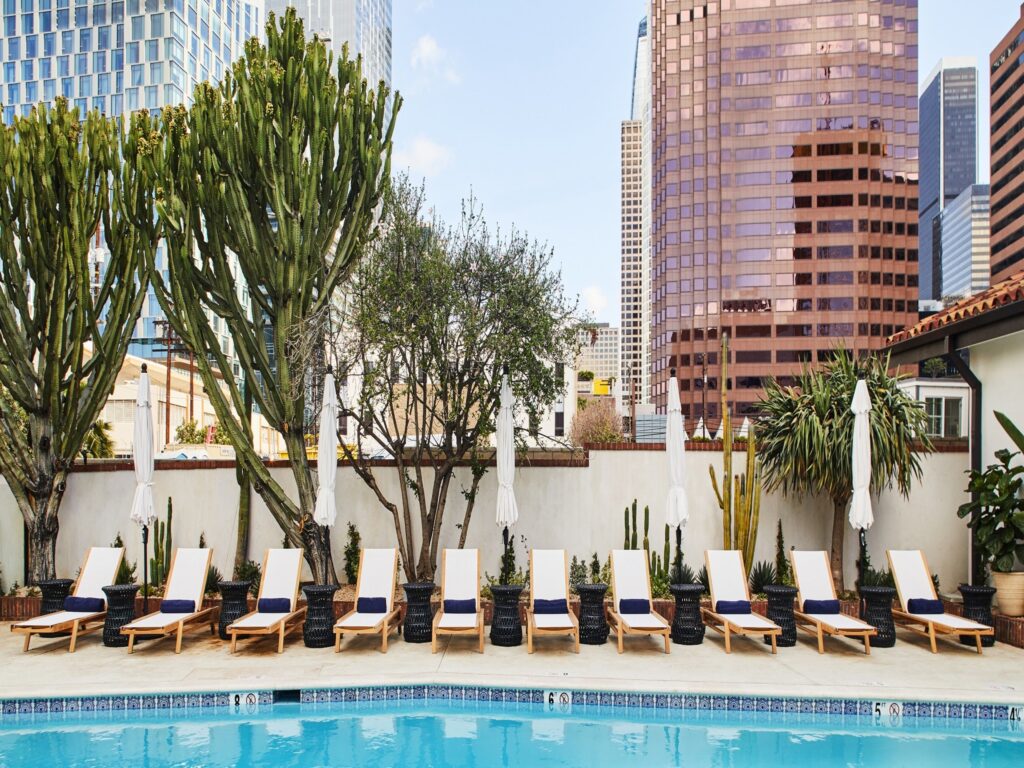 Hotel Figueroa offers guests and locals access to The Bridge Mind Body Movement's outdoor fitness classes, with daily pilates and yoga classes on the hotel's outdoor terrace. Figueroa offers many classes daily with Pam Johnson, fitness instructor and studio owner. The hotel offers many opportunities for self-care through safe and socially distanced outdoor activities, overlooking the cityscape.
In addition to the permanent Figueroa holiday package, which offers a 26 percent discount to all California residents (in honor of the hotel's opening date in 1926), the hotel also offers daily outdoor health and fitness classes and exclusive day passes (starting at $35) through the Resort Pass program.
For more information, see www.hotelfigueroa.com.
Related stories
Mar Monte Hotel by The Unbound Collection makes its debut in Santa Barbara
Los Angeles is launching an initiative to monitor all hotels for compliance with the Sharecare program.
Hyatt's Hotel Du Palais Biarritz opens after refurbishment
The Beverly Hilton Hotel is undergoing a $35 million renovation.The Unbound Collection by Hyatt is a newly launched collection of hotels that offer the ultimate in cutting-edge design, amenities, and service. It's a world-class collection of hotels that embraces the future by utilizing cutting-edge design, innovative technology, and thoughtful service.. Read more about new hyatt hotels opening in 2023 and let us know what you think.